Floor Stripping and Waxing in Loves Park, IL
Quality Loves Park Stripping and Waxing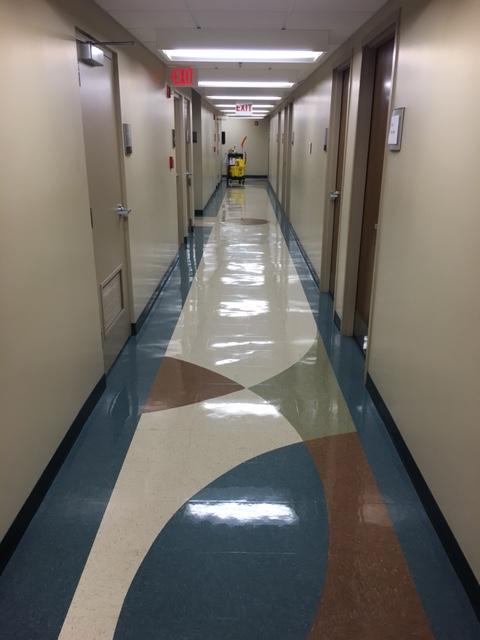 The commercial cleaning crew here at Advanced Cleaning takes great pride in creating and maintaining gleaming hard surface floors in Loves Park, Illinois. Floor stripping and waxing is what we do best! We've been stripping, waxing and buffing floors to perfection since 2004. Give us a call at (815) 261-0701 today for a free, no obligation assessment of your flooring and a fair and honest quote for maintaining it.
We'll Find Your Shine!
Whether you are looking to spruce up a tired, neglected marble floor, or your Loves Park VCT tile flooring is buried under layer after layer of wax, Advanced Cleaning can get your flooring back to a shiny, clean state.
We are trained in the care and maintenance of floors in Loves Park of all surface types, including:
Marble and Granite
Natural Stone
VCT
Wood Flooring
and more! Call (815) 261-0701 for a quote.
Expert Maintenance of Floors in Loves Park
Regularly maintaining your flooring in Loves Park will keep them looking fresh and clean, and will extend their life. Marble and Granite must be regularly dust mopped and cleaned with mild detergent. Regular buffing or burnishing will keep them gleaming. Depending on the foot traffic you endure, we'll get you set up on a maintenance schedule best suited to your needs. VCT flooring should be stripped and scrubbed to remove old built up wax, then dried thoroughly prior to an application of fresh wax. Again, depending on the amount of traffic you receive, we'll maintain them, daily, weekly, monthly or quarterly, to your specifications.
WHAT CUSTOMERS ARE SAYING:
5★★★★★ - "They are in uniform ,professional and
Very good at cleaning our offices."
Janet in Loves Park, IL
---
5★★★★★ - "Wonderful company takes care of details!"
Doug F. in Loves Park, IL
---
5★★★★★ - "5★★★★★ - "Really good at refinishing floors. We have a retail floor and they made it look really nice! Store manager" 2018-08-21"
Anonymous, Floor Stripping and Waxing
2018-08-21
---
5★★★★★ - "Fantastic service by Theresa at 5450 Wansford Way!"
Anonymous
2019-05-20
---
5★★★★★ - "I was impressed with Advanced Cleaning from the moment I met them. They were very professional during our facility tour, asking questions about our specific needs and commenting on things they could to improve service. Since being awarded the contract, Advanced Cleaning has exceeded expectations. Since they began I have received several emails commenting on what a great job they do and how friendly the staff is. Tom and Perla are easily reached and respond quickly to any concerns. Based on the service they have delivered thus far, I would highly recommend them to other Business's."
James Reader in Rockford, IL
2018-11-21
---
5★★★★★ - "Theresa from Advanced Cleaning does an outstanding job every day at our offices in Rockford. The office has never looked better. Always does more than she has too."
Bill in Rockford, IL
2018-09-06
---
5★★★★★ - "Great customer service !"
Jay M in Rockford, IL
2018-08-20
---
5★★★★★ - "The advance cleaning crew does a great job for us. Our facility is open 20 hours a day six days a week and they work around our schedule. "
Tom M. in Belvidere, IL
2016-09-09
---
5★★★★★ - "Advanced cleaning has always been a hands on company. If we ever need anything they are quick to respond and have provided a wonderful service for us for quite a few years. "
Alan J. in Rockford, IL
2016-09-09
---
Call for FREE Floor Stripping and Waxing Quote
---